Well, here it is! But....
1) why did I think it was the
Chicago Tribune
? Bad memory, I guess.
2) sorry so late (you don't know what I had to go through to get these scanned today!) (a lot of spousal arm-twisting! ;-))
3) sorry so illegible and inadequately large (esp. from part II, Oct. 4) (get out your magnifying glasses!)
4) sorry the last page (p. 62) is missing. I found it in my stack AFTER all the scanning had finally been completed. I'll just fill it in the old-fashioned way later... (check back). Actually it's really short, so have hope! But you'll be missing out on another pic of Roger.
5) Re: correcting #3 and #4, see #2... so don't hope for too much! But a big thanks to my husband anyway, for being so patient with me (it only took a month!) (I should be happy I got this much! ;-)) (I don't think I have the strength for more arm-twisting).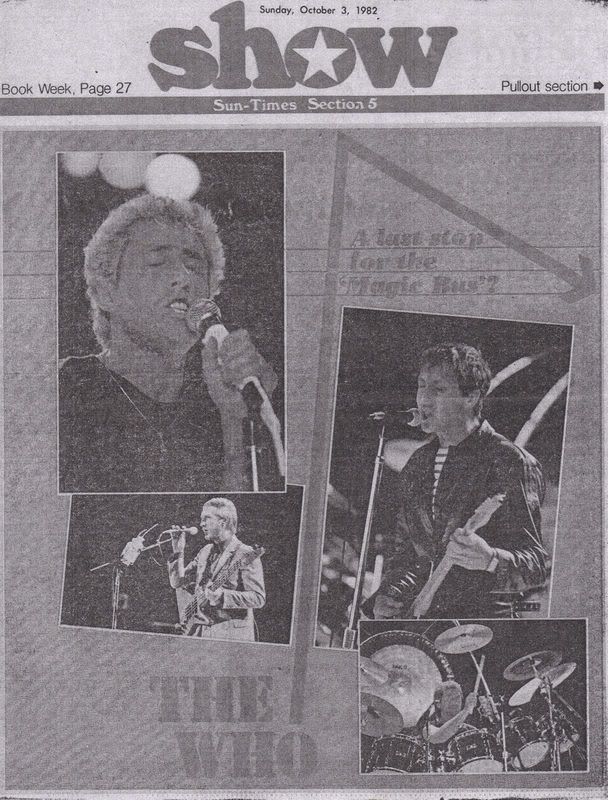 This was actually a color page (above) ... pinkish and very garish.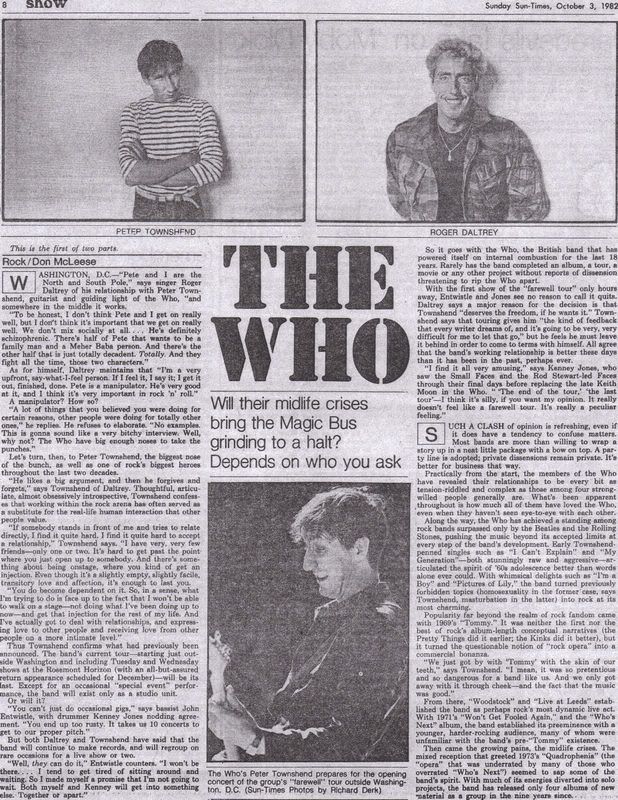 Love that Pete pic up top, in stripes. :-)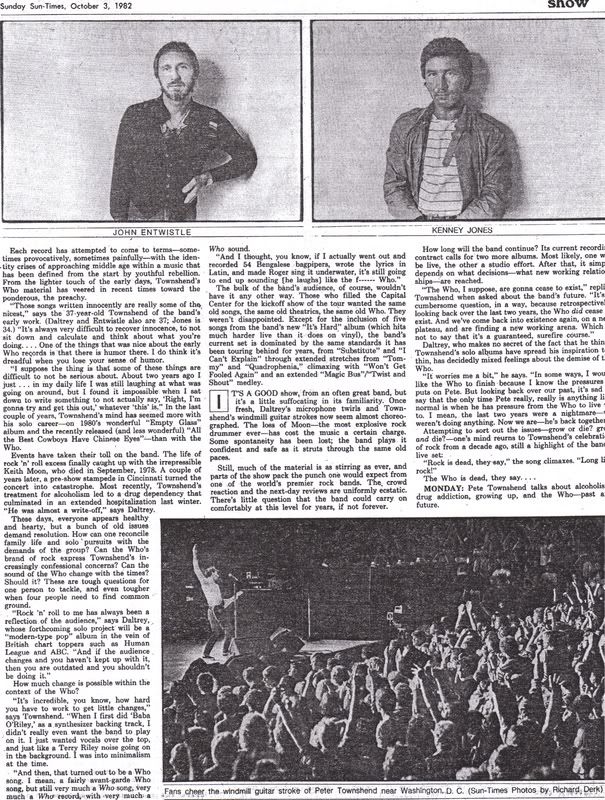 sorry about the right side being lopped off a bit up there! bad photocopying job on my part, I guess!
OK, now it gets really small....... so sorry. (It's a great article!)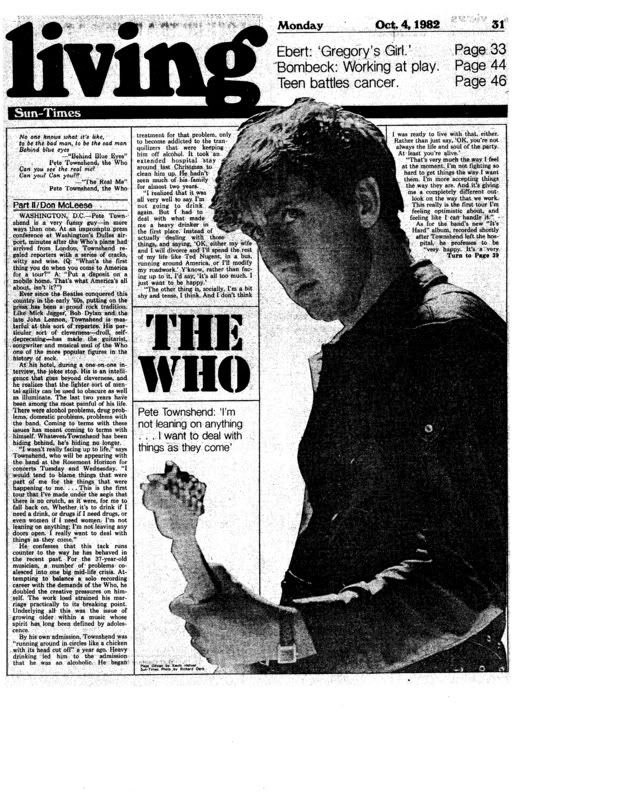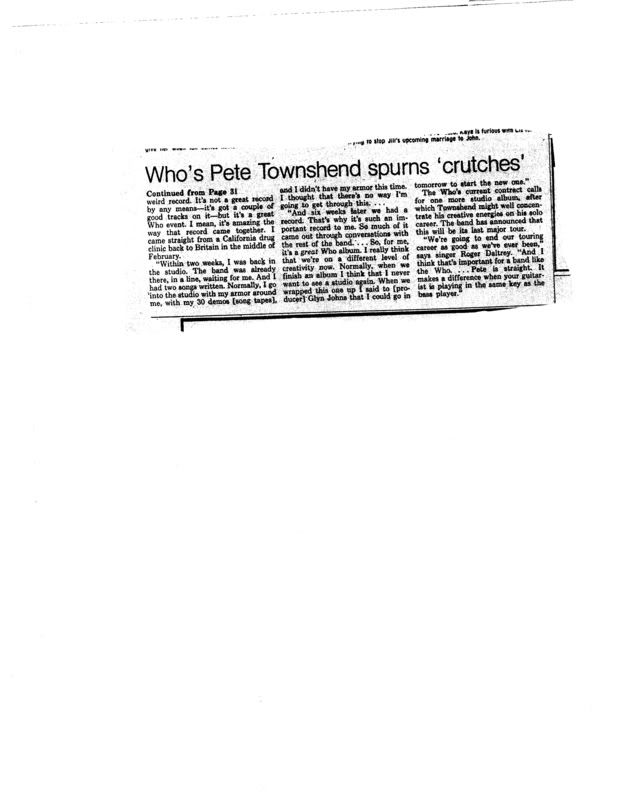 why's there such a big gap up there? bad scan job, I guess!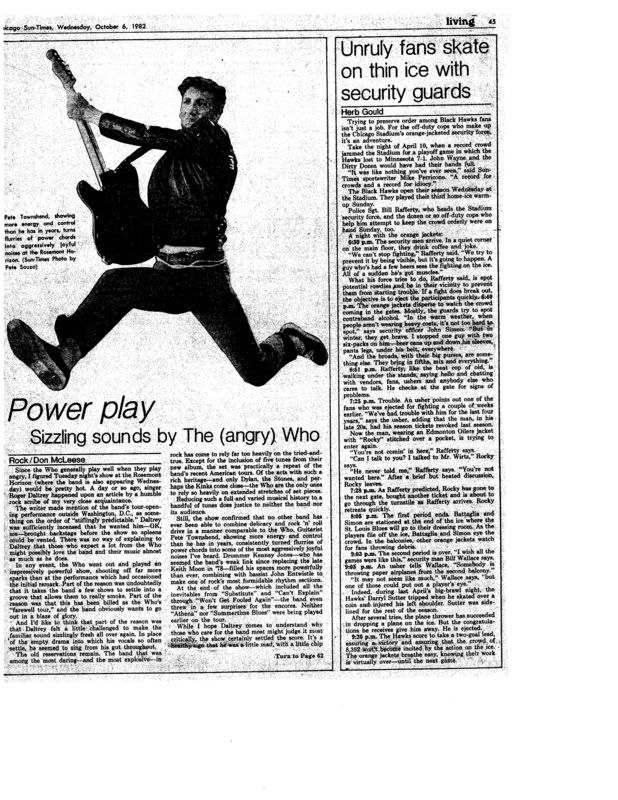 but where's page 62?? (watch this space!!) (literally!) (OK, go ahead... you can blink)
OK... here's the final bit. For what it's worth ... (I'm a completist...)
[p. 62] Chicago Sun-Times, Wednesday, October 6, 1982 (cont'd from p. 45)
... It's a healthy sign that he was a little mad, with a little chip ...
on his shoulder. Even on the last tour, the Who still care.
OPENING FOR THE WHO was T-Bone Burnett, whose set waged a largely unsuccessful battle against tinny sound, audience indifference, and the other problems that so often plague warm-up acts at the arena-rock level.
Although Burnett, best-known through his association with Bob Dylan and the Alpha Band, is one of the most intriguing songwriters on the contemporary scene, the wit, melodicism and taut dynamism of his material were largely lost within the cavernous Horizon.
Coming across best were propulsive Tex-Mex rockers such as "Like a Boomerang" and "Hold on Tight," powered by the guitar work of ex-David Bowie sideman Mick Ronson.
[profile pic of Roger at the Rosement Horizon in a light colored suit jacket holding mic to mouth in his usual up-ended elbow fashion]